The Thanksgiving Feast Part 1 by Madtitan
---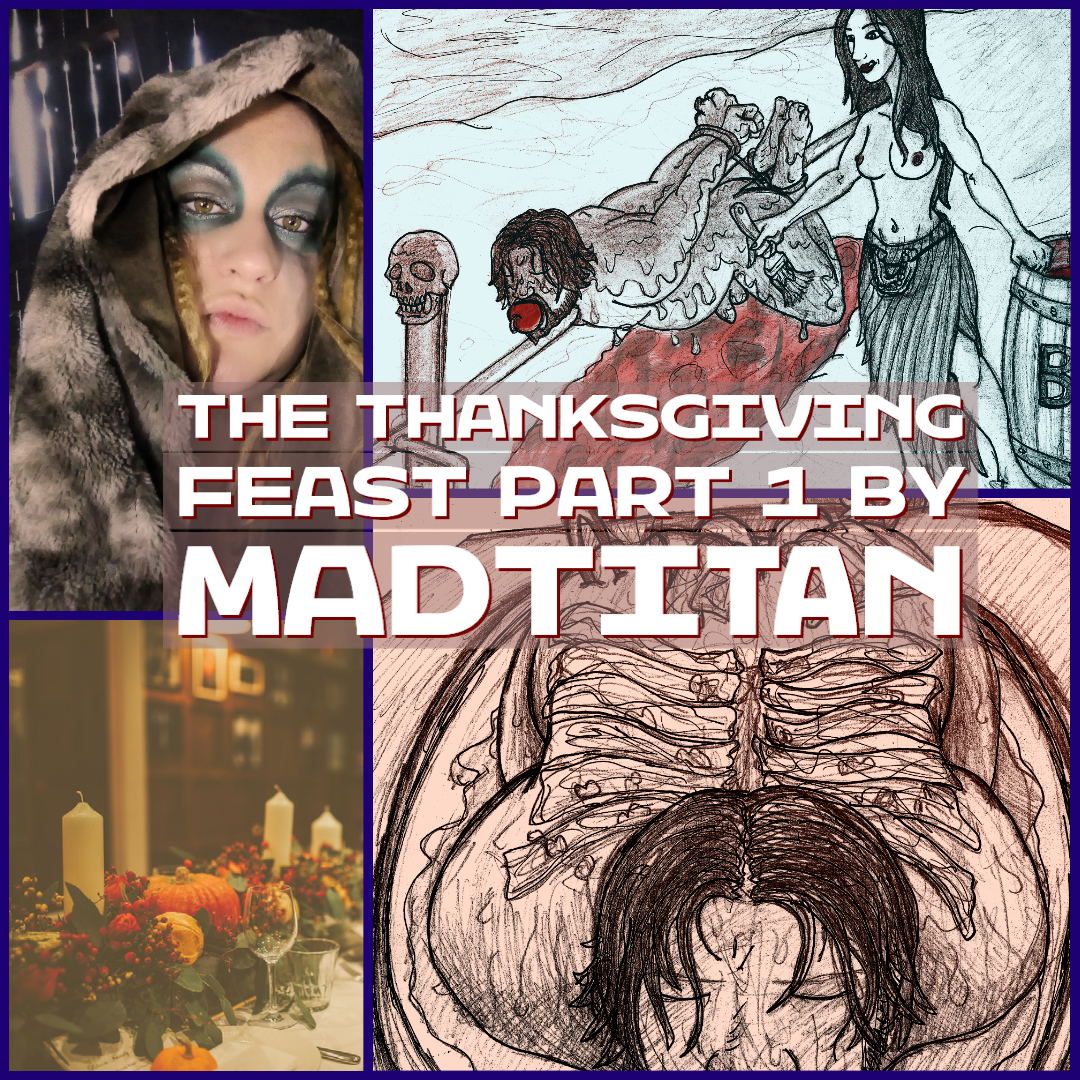 The cool chill of the autumn breeze penetrates the old wooden stables of Safe Haven. A half-dozen long-pigs sleep soundly on their hay beds, but one in particular could not sleep. The anticipation of the role he is to play today had not let him sleep a wink. He was like a kid on Christmas morning, he thought to himself. Chuckling at the childish irony of that. He wasn't a kid anymore, in fact he wasn't even a man. His number was LP1337 and he was a Pig, and today was Thanksgiving. Today was the day he was trained for, he was bred for, and the excitement he felt at finally gracing his Goddess' table was palpable.
It was feeding time for the Pigs, but 1337's thoughts weren't on eating food so much as being food, and he picked at his bowl of porridge absent-mindedly. Femcan Lana, the Goddess of the pigs and the Mistress of the homestead was inspecting her livestock and took notice of 1337's lack of appetite."Not hungry, pig?", she said to him incredulously. 1337's eyes widen and he stammers out a response as if he's meeting his favourite celebrity,
"G-Goddess Lana! No, I'm sorry, it's just my thoughts are… elsewhere."
"Are they?", she grabs 1337 by the collar and inspects his tag. "Ah yes, you are the plump, young, piggy who will be tonight's feast!"
1337's cheeks blush and his cock hardens at the thought. "Yes, Goddess."
Lana smiles. "Then why aren't you eating? Don't you want to be the best feast you can be?", she pinches 1337's stomach, as if trying to gauge the yield he would give.
"You want there to be enough of you to go around, right Pig? You wouldn't want me to still be hungry…"
"Of course not Goddess Lana!".
"Good.", she said, grabbing 1337's food dish and throwing it on the ground. "Now get on your knees and eat up piggy! I don't want you to get up until you've licked that dish clean."
1337 complies immediately, moving to his hands and feet and burying his face into his food dish like an animal. Lana seems amused, and a thought flashes across her wicked mind. She stomps down hard on 1337's neck with her heavy boot, burying his face into his food for real. 1337 begins to thrash involuntarily and Lana comforts him, without taking her boot off his neck.
"Shh, shh, shh little piggy. Eat up now, eat up. Good pig. Good pig…", she tentatively lets him up and 1337's dish is spotless, he looks a little disoriented but he should be tasty and that's what matters.
"Thank you Pig. Now come with me, there is a lot more fun to be had before the feast tonight!"
Thank you Madtitan for the story
---