The Safe Haven Piggie Auction
---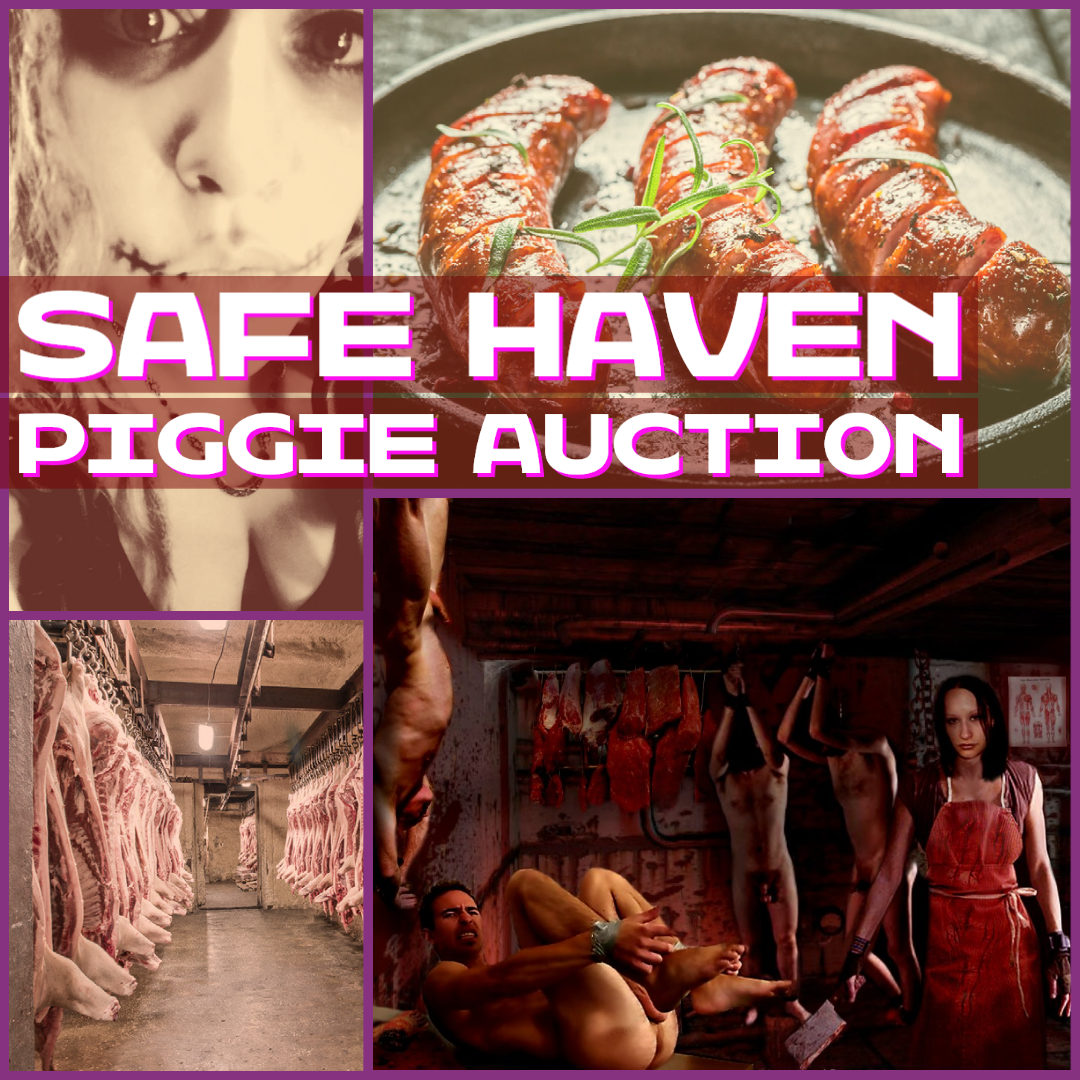 Shhh piggie just relax while I place the apple in your mouth. Shhhh don't struggle piggie. You are safe here. Let me go over what's about to happen. You will bite down on the apple. Its a special one. Its rubber. They call it a ball gag Hahahaha Anyway once I put the apple in your mouth aka ball gag Im going to rub you all over with BBQ sauce.
Then Ill milk your sausage. All piggies love that. Then Ill stuff your rump with veggies. And you will be all set. Set for what? Set for Dinner silly piggie. You will be on display. I have chosen you and a couple other piggies.
You will be layed out on a platter. Some piggies will be on their backs hog tied and others will be on their bellies hands tied behind their backs.
Im inviting a few of my Femcan sisters over from the farms around us. You see piggie This is The Safe Haven Pig Farm. My farm is in the middle surrounded by other pig farms. Pigs always start here. Then they are sold to the other farms.
Piggies get sold alive or in pieces. Depends on if the pig was a good piggie or a bad piggie. If a pig decides to escape they become free range food for the farm they enter. The Femcan may choose to hunt them or trap them. Thats their choice. Well today their will be a bidding war.
I pass around a ticket that has a golden fork on it. Its like an invite. They are invited to bid or barter. Every Farm is Unique and has things we need her at Safe Haven. Think of us as the Entrance. We train the pigs here and the other farms supply us with either funding or things we need to survive. Ill stop there. I dont need to bore you with those facts
Just know piggie you are being bought today. You will go to a different farm. You were pretty good while you were here. So dont think of this as a punishment. If you were being punished you would be wither in a hole in the ground or in pieces.
What will the Femcan do to you once bought. Well different Femcans want different things. Some are hungry, Some need a play toy. A play toy pig is like a sex pig that does naughty things. The Femcan may want to play with your sausage or she may want to watch you play with sausages. Who knows. The only thing that you need to know is that whatever she asks of you YOU better do it. Just oink. Doesn't matter how many times just lots of happy oinks
They typically spend a year or 2 with the pig. Well unless they are hungry then you could be dinner right away. Thats rare though piggie. We go through so many bad piggies here that typically all the freezers are packed with meat.
You see pig most pigs dont want eaten or they try to escape or they try to fight. Well we dont want those piggies around. They get chopped and frozn for consumption. Good piggies like you get all kinds of rewards and could be around for years to come. Bought and sold to different Femcan Farmers. One day you might ask to be invited to dinner. That day will be special. You see when a pig asks to be invited to dinner its special for the Femcan and the Pig.
There is always a party for the pig. Lots of drinking lots of horny action for the pig. Willing piggies make Femcans hungry and when they are hungy they are horny. Its the same feeling. So the pig will have so much fun. Then the process starts. The pig will be in the Barrel of warm BBQ. Just relaxing for a couple days. The pig will eat veggies and drink lots of beer and wine. Femcans will spend time with the pig sharing all the secrets. They will tell you everything.
The reason they share everything is then when the pig is consumed the femcans gain all the knowledge. That's how we get so smart. Willing piggies live inside of us. They never die. In fact they spend time with other pigs inside of us. Its the innerpig of the pig. Yes piggie you know about the innerpig. Well we train the inner pig so that one day we hope the pig will want an invite.
The stronger the pigs inner pig the stronger we get. It makes us wiser and younger and more fit. You have a nice innerpig so perhaps one day you will ask for an invite. Well enough for now. My Femcan sisters will be here soon and I need to get you ready. All the pigs need milked. We dont want any horny piggies showing their sausages off when the Femcans arrive. They might take a bite Hahahaha
Now lets get that sausage out and play.
---