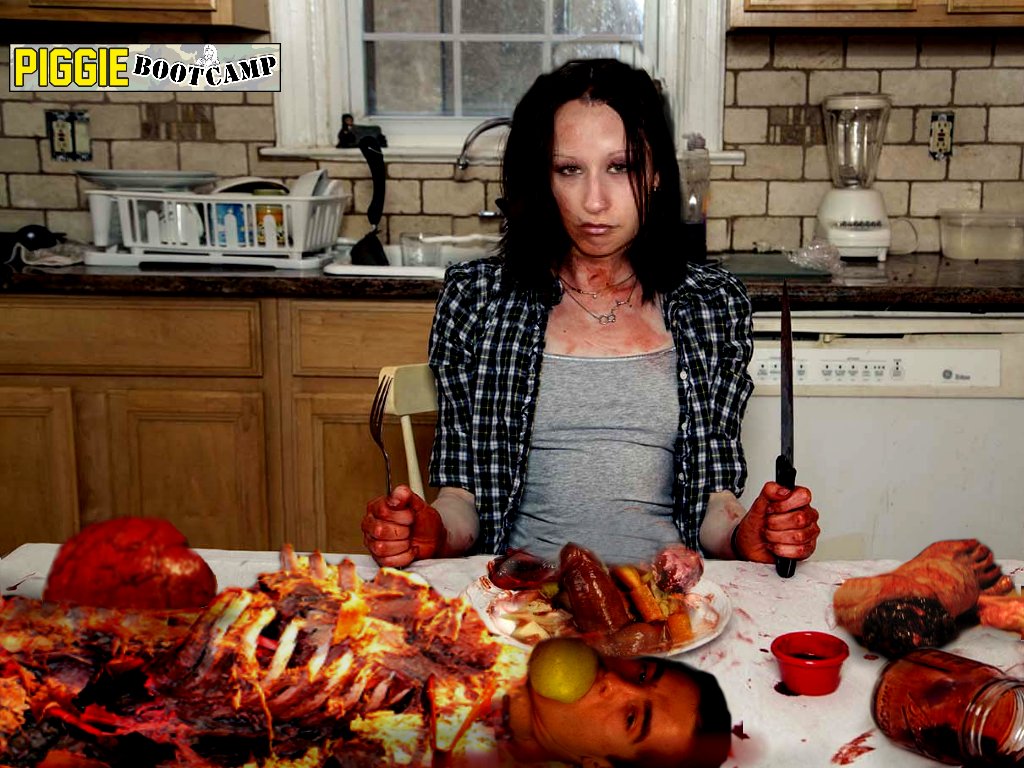 Written by Charles
Lana lived in a cottage made of timber and brick.
Ii is here where she kills men, cooks and eats their meat including their balls and their dick.
If I had not fallen under Lana's spell.
I would still be alive and well.
In her pen was I allowed to survive.
Until she decided the time had come for my demise.
On a butcher block I was made to sit.
Where in an excited frenzy my throat she slit.
Yes, it was in her kitchen I met my fate.
Where my lifeless body she butchered, cooked, and put on a plate.
When everything was ready she commenced to dine.
And found my meat being tender, juicy, and divine.
But what she liked best of all was that which had hung between my legs.
Yes, it was my dick she enjoyed the most along with that of me shaped like eggs.
Between her teeth my cooked balls did burst.
And suffer a humiliation that, for a male, could not have been worse.
My roasted dick lay before her looking humble and meek.
Seemingly content to wait for her to eat.
Oh what disgrace to befall that of me in which I had held such masculine pride.
To succumb within a woman's mouth and into her digestive juices slide.
Several weeks pass and there was nothing left to show I had ever been.
Except for my mounted head hanging on a wall in her den.
My cock and balls along with all the meat of my male body.
Have now become female flesh except for that flushed down her potty.
I care not if women view this afterlife message with scorn.
It's my fellow males that I hope to warn.
Be wary of a cottage where a young woman lives alone.
Let not her loveliness sway you regardless of how harmless her look might appear being shown.
Don't be tempted to follow the mistake that by me was made.
Of thinking she was only a good looking babe.
Because if you enter her cottage and she looks at you with hunger in her eye.
Your fate will be sealed and, like me, you will surely die.
In being male, don't do as I and make the choice I decided to pick.
When seeing her beauty to start thinking with your dick.
---